Yesterday metaltheater.com reached over 200 sessions in a day, which is the highest yet! Since the start of the year the site has steadily grown in readers - the graph on the right shows unique sessions per day.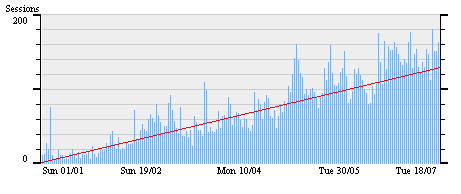 What a fluke huh? Who would have thought!
So what have I done to increase traffic? Numerous things. First off, I did my best to make the site all valid HTML, conforming to the w3c strict standard. I also looked up as much info as I could about making my site "google friendly". Then I added as many reviews as I could (a lot more to come!), got a few links from wikipedia, added an RSS feed (this is quite popular), and lately I've started doing interviews, which has been a nice boost.
Search engines used to find my site:
google.com - 65%
search.msn.com - 11%
search.yahoo.com - 6%
Google is still king! Browsers used:
Mozilla / Firefox - 49%
IE - 21%
Opera - 1%
Safari - 1%
So thanks everyone for reading the site, I'm going on holiday for a week so don't expect anything new until I get back :) I notice that Paul Gilbert has a new instrumental CD coming out - that will be a must buy for all shred-heads. The Guitar Channel has kindly linked to my Brett Garsed interview, and they also have lots of nice reviews and articles, so please check it out!